View of nature by sculpture

Since ancient times, our ancestors have felt respect towards nature, seeing humans as a part of it. This can be seen in, for example, the concept of transmigration. Our ancestors appear to have felt that nature was an existence that transcends human knowledge, similar to how various gods of nature exist in localities all over the globe. This kind of spiritual world influences the foundation of my work.

I use woodcarvings as well as various materials such as crystal, lacquer, gold, Japanese paper, and copper to express the "spiritual" form of us humans that is inseparable from the workings of nature.



〜彫刻的自然観〜

古くから我々の先祖は輪廻転生など人間を自然の一部とし自然への尊敬の念を抱き生きてきました。世界各地に様々な自然神が存在する様に人知を超えた存在と感じられたのでしょう。私の制作の根底にもこのような精神世界が影響しています。

自然の営みと切り離す事の出来ない私たち人間の'精神'の姿を、木彫を中心に水晶、漆、金、和紙、銅など様々な素材を利用して表現します。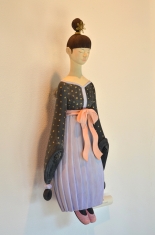 Photo:Ayako Watanabe
星屑浮遊像(2011)
星に願いを込める事は洋の東西、時の今昔を問わず人間にとって自然な姿です。我々の実生活からは遠く離れた存在であるのに、大切な時に星に願いを込める行為は我々が自然と共に生きている事の象徴ではないでしょうか。
To make a wish on the star it is the natural figure for a human being regardless of what period and where from.
Is the act to make a wish on the star when it is important not a symbol of our living with nature?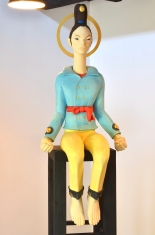 Photo:Ayako Watanabe
太陽坐像(2011)
日々の生活から決して欠く事の出来ない太陽。その大きなエネルギーは我々自身の内にも「気」として大きく存在し、今日の原動力となっているのではないでしょうか?

The sun cannot be nonexistent in daily life. Does not its great energy exist within ourselves as "spirit" in large scale as well, becoming the motive power for today?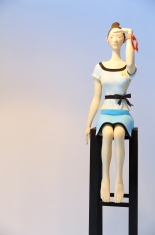 Photo:Masamichi Hirata
望遠坐像(2010)
我々は何処へ向かっているのでしょうか?望遠坐像は未だ見ぬ遠い未来を伺っています。

Where are we headed?
The distant view seated statue looks into the unseen future.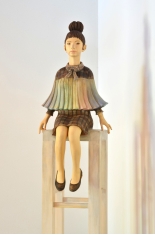 Photo:Ayako Watanabe
虹思い坐像(2012)
遥か宇宙からやって来た太陽光は、雨上がりの地球で雨粒と出会い虹を生み出しました。
虹思い坐像はそんな奇跡的な出会いが沢山生まれ、沢山の素敵な虹がかかる事を願っています。

Sunlight arriving from far off space produced a rainbow by encountering raindrops on earth just after the rain.
The Sitting Statue Pondering over the Rainbow wishes that many miraculous encounters occur and many wonderful rainbow appear.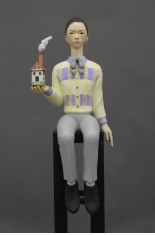 家守坐像(2011)
家守坐像はお家と其処にある人々の暮らしを守ってくれています。
The seated YAMORI statue protects the house and the lives of the people there.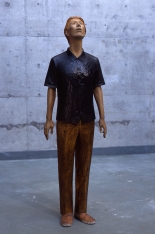 月(2006)
視線の先には遥か彼方に輝く月が見えます。月は地球上に暮らす我々に遥か彼方を思い描き夢見る想像力を持たせてくれます。


We see a shining moon in the far distance of the glance. The moon gives those of us living on earth imagination to ponder the far distant place and draw dreams.